"The Power of Data Analytics in Electric Utilities – An Industry Perspective"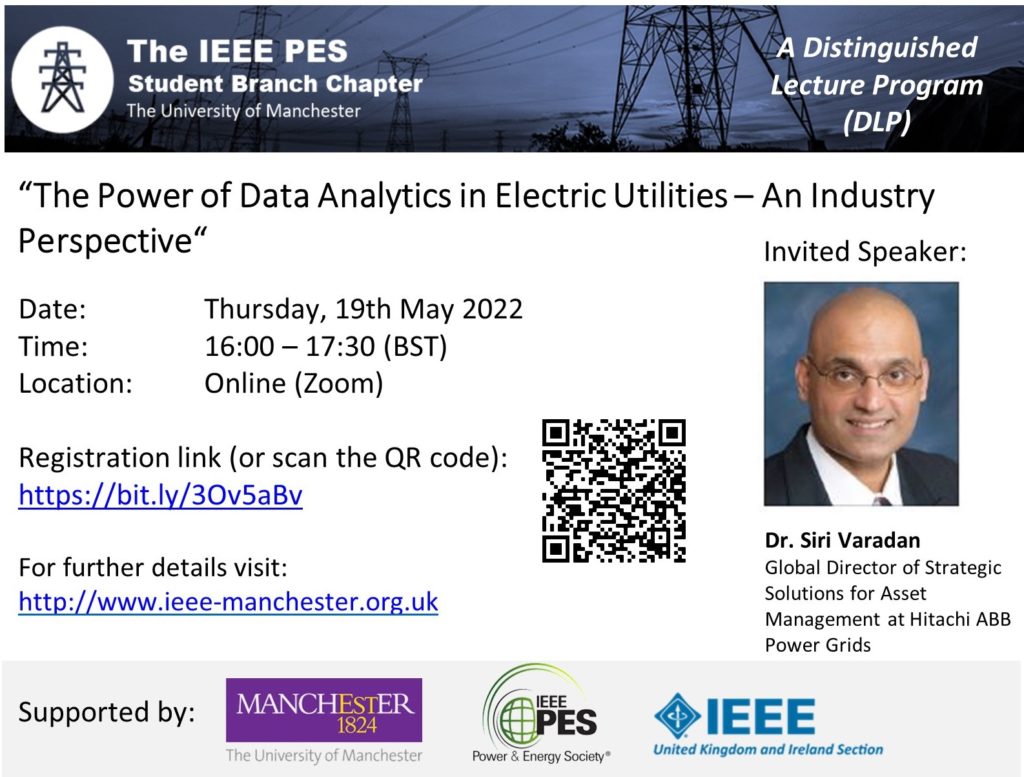 Date: Thursday, 19th May 2022
Time: 16:00 – 17:30 (BST)
Location:  Online (Zoom)
Guest Speaker: Dr. Siri Varadan
Organised by: IEEE PES Student Branch Chapter at The University of Manchester 
Supported by: IEEE UK&I, IEEE PES and the University of Manchester 
Registration link (or scan the QR code): https://bit.ly/3Ov5aBv
Abstract:
"This session focusses on the use of field data, obtained from sensors monitoring field assets. The key question, "what to do with this data?" is the main topic. Use cases are presented demonstrating how data analytics can be used for determining asset health, criticality, and remedial actions. The session also deals with the topic of decision making based on data driven facts. This includes diagnostics (what to do now?) based on current and past data, and prognostics (what to do in the future?) based on AI/ML techniques."
Bio:
Dr. Siri Varadan is global director of product Management for a portfolio of software products related to asset management. Products include APM (Asset Performance Management), Asset Investment Planning (AIP) and Data Analytics Solutions for outage management and work management. In this role, he provides strategic and tactical guidance in realizing the broader vision for these products in alignment with industry, customer and company needs. Further, he interacts with various parties – both internal and external – to ensure the success of this portfolio of products. Siri's unique blend of business, technical and leadership skills combined with a keen customer focus is highly effective in achieving a key goal – to enable utility personnel to make holistic (data-driven) asset management decisions.

Professionally, Siri has held various leadership roles throughout his career and worked at leading vendor and consulting companies (UISOL-Alstom, KEMA, Nexant and ABB) spanning the utility business. His clients have included IOUs, Munis and governmental organizations. He is a regular speaker, panellist and instructor at industry meetings (DistribuTech, T&D Conference and Exposition, IEEE-PES-GM).  Siri is a senior member of the IEEE-PES and has held various official positions within the organization as a volunteer. Siri is author of the book, "Shaping an Engineering Career: Advancing to Management" published by the IEEE and a contributing author of the book, "Smart Grid: Advanced Technologies and Solutions", published by CRC Press.