"Grid Modernization: Challenges and Opportunities in Powering a Sustainable Future" by Dr. Julio Romero Aguero
Organized by the IEEE PES SBC at The University of Manchester
IEEE PES Distinguished Lecture Program (DLP) titled "Grid Modernization: Challenges and Opportunities in Powering a Sustainable Future" was delivered by Dr. Julio Romero Aguero on Thursday 28th April 2022 via online (Zoom). Dr. J. R. Aguero is the Vice-President of Membership & Image on the IEEE PES Governing Board, and the Vice-President of Strategy and Business Innovation at Quanta Technology. The talk was effectively organised and hosted by The University of Manchester IEEE PES SBC. Up to 76 attendees participated in the event, including 37 IEEE members and 30 PES members.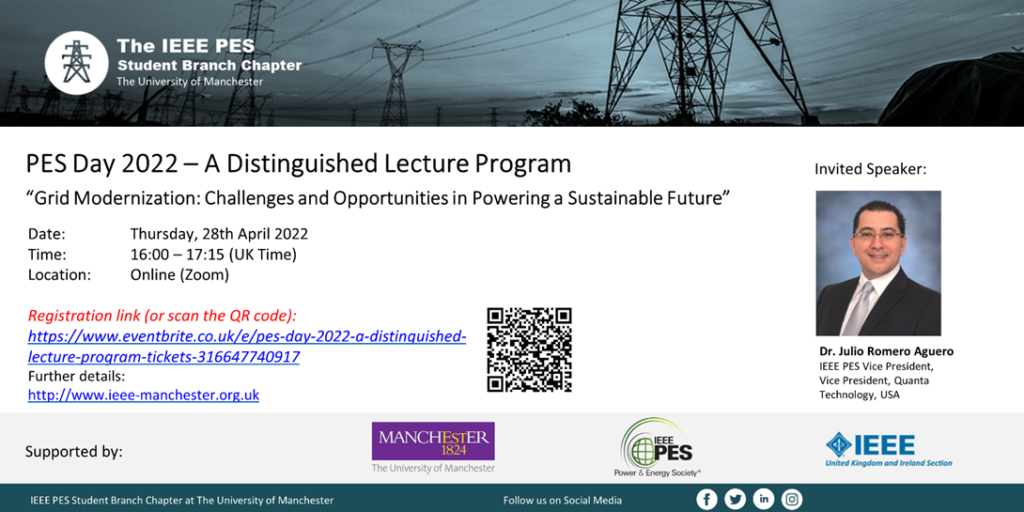 Modernizing power grids using cutting-edge technologies, devices and controls can make them 'smarter' and more resilient. Thus, enhancing the reliability and efficiency of power supply, which significantly reduces the occurrence of power outages. A modernized grid provides better opportunity for building a sustainable society, by increasing the integration of renewable energy sources into the energy mix, as well as reducing grid operational costs.
On this basis, Dr. J. R. Aguero insightfully interpreted the key steps to a 'Grid Modernization Roadmap', which allows implementing various requirements and capabilities practically based on the utility's goals and vision.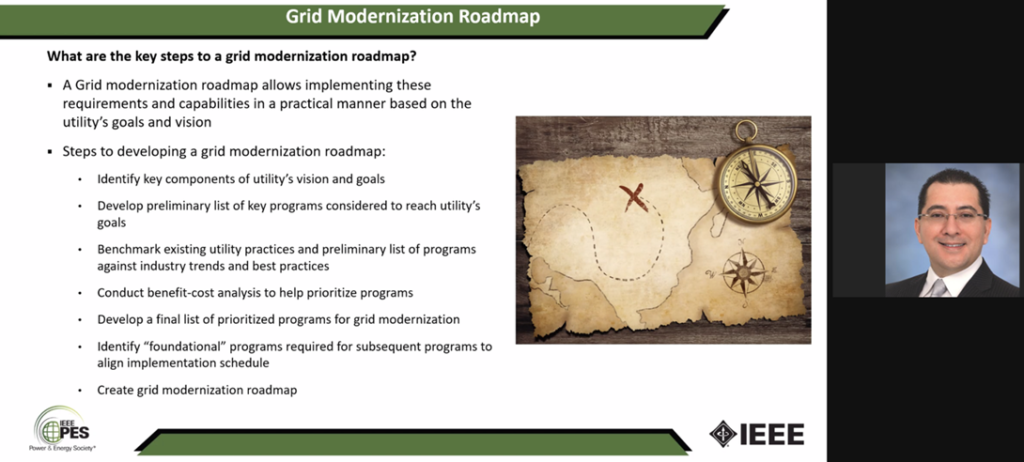 In this talk, Dr. J. R. Aguero introduced a novel tool for the description of grid performance – referred to as 'Grid Analytics'. According to Dr. J. R. Aguero, the concept of "Grid Analytics" can be categorised into descriptive, diagnostic, discovery, predictive, prescriptive and cognitive analytics, which can be generally structured them into three forms – hindsight, insight and foresight analytics. These analytics brings myriads of challenges to grid modernization and offers substantial opportunities for a sustainable power supply future.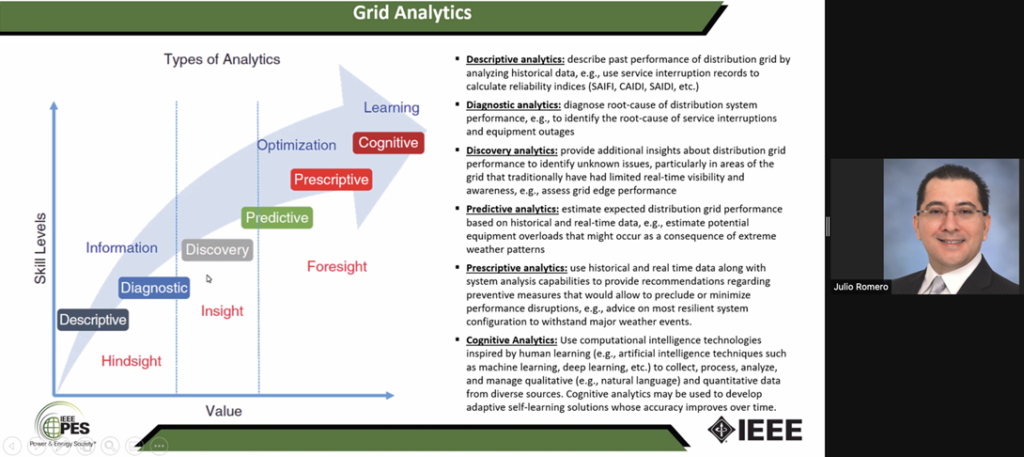 Powering a sustainable future also depends on electrification. Through a map of 'Site Density Distribution Analysis of Electrification of a City District', Dr. J. R. Aguero explained the novel methodologies that would facilitate efficient localisation and distribution of power across substations, via the incorporation of GPS, distance algorithm and efficient load management.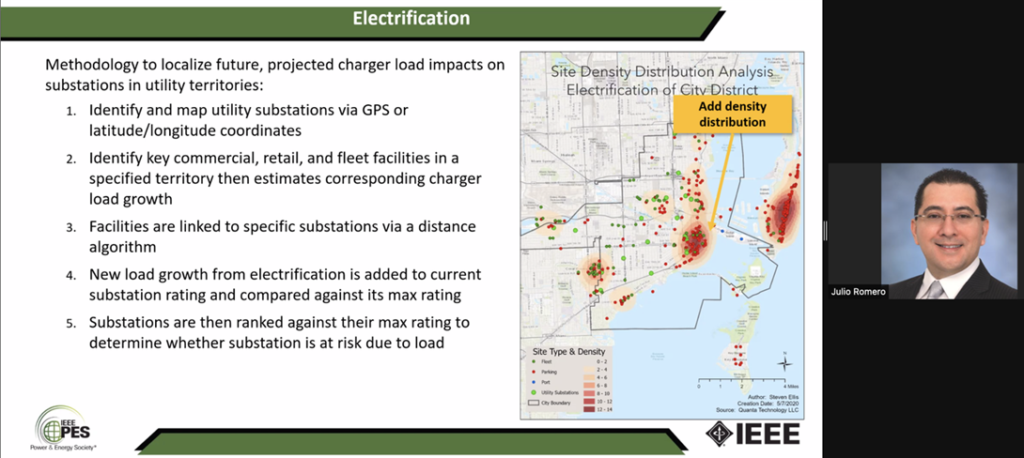 Following the presentation, Dr. J. R. Aguero answered questions touching on equipment replacement, clients' behaviour and climate change issues, etc.
The University of Manchester IEEE PES SBC organizing committee would like to express sincere gratitude to Dr. J. R. Aguero for this extraordinary talk. For more information, including the biography of Dr. Julio Romero Aguero and the abstract of this talk, please visit the Manchester PES SBC website (http://www.ieee-manchester.org.uk/).
Please visit the Manchester PES SBC YouTube Channel for the full recording.
Wenzhu Li
Vice-Chair, IEEE PES SBC at The University of Manchester
Christian Nwosu
Industrial Liaison Officer, IEEE PES SBC at The University of Manchester
If you have any questions, please feel free to contact our chair:

Chair: Omoniyi Akinpelumi
Email: omoniyi.akinpelumi@manchester.ac.uk