Organized by the PMAPS YP panel & IEEE PES SBC at the University of Manchester
On Tuesday, 14th June 2022 between the hours of 13:30 – 15:00 (BST), the IEEE Power & Energy Society (PES) Student Branch Chapter at the University of Manchester (UoM) in collaboration with the PMAPS 2022 Young professional (YP) panel organized an online event tagged "Achieving Success in a Modern Workplace". This YP event hosted on zoom platform attracted about 37 registrants with 29 viewers, all of whom are IEEE PMAPS 2022 registrants.
The YP career talk session was a mix of informative talks and a Question and Answer (Q/A) session by five invited young professional panellists – Dr. Alexandru Nechifor (Senior Java Developer, Barclays), Dr. Melike Ayaz (Power Systems Engineer, National Grid ESO), Mr. Milos Milisavljevic (Founder, Strawberry Energy), Dr. Panagiotis Papadopoulos(Senior Lecturer, University of Strathclyde), Dr. Tingyan Guo (Senior Consultant, Deloitte).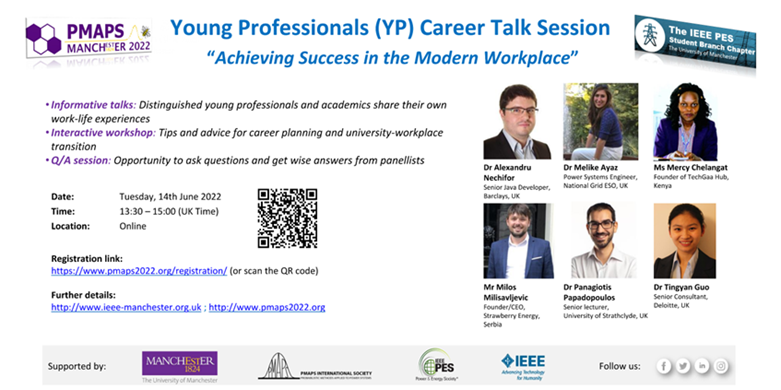 Before the YP career talk session started, Mr. Omoniyi Akinpelumi, who is the chair of IEEE PES SBC UoM gave an introductory speech about what IEEE PES SBC UoM stands for and what we do.
In the first segment of the career talk session – informative talks, each of the five available panellists gave a short five minutes talk on their educational background and how their career path has been so far. They also gave an overview of what the companies they work for do and their role there.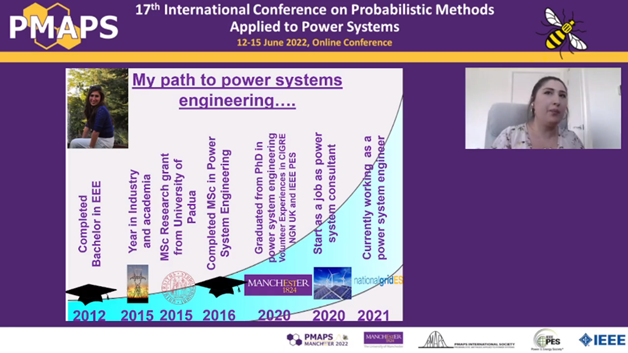 The use of Slido messaging app and Zoom chat features for the Q/A segment helped us achieve a seamless discussion between the panellists and attendees bordering in skills-related,work experience and career progression questions. Participants were able to ask and upvote questions to the panellists to answer with the help of Miss Wenzhu Li, who served as the moderator. Examples of such questions asked were "How to achieve a good work-life balance", "What skillsets obtained from BSc/Msc/PhD degree is most useful in the modern workplace" and "What are the biggest challenges they have face in their career so far".
The YP career event was well recieved with a positive feedbacks, especially on the discussions and Q&A segments. Many attendees commented that this event was "well-organized" with "a Q/A discussions". The IEEE PES SBC at UoM would like to specially thank Dr. Jelena Ponocko (Lead, PMAPS 2022 YP) for the opportunity to co-organized this event. To our invited panellists, we express our gratitude for your time and for sharing your experience with us. Finally, we say a big thank you to all our participants for attending this event.
Omoniyi Akinpelumi
IEEE PES Student Branch Chapter at the University of Manchester
If you have any questions, please feel free to contact our chair:
Chair: Omoniyi Akinpelumi
Email: omoniyi.akinpelumi@manchester.ac.uk