Type: Technical Lecture Series
Title: High Reporting Rate Measurements for Smart(er) Grids – IEEE IMS Distinguished Lecture
Speaker: Prof. Mihaela Albu, PhD
Date: 18th September 2017
Time: 17:30 – 18:30
Location: F14, Renold Building, Altrincham Street, Manchester M1 7JA
Free Refreshments will be provided for all attendees.
LECTURE DETAILS:
This IEEE IMS Distinguished Lecture would be related to issues on the Modern control algorithms in the emerging power systems used to process information delivered mainly by distributed, synchronized measurement systems, which are available in data streams with different reporting rates.
The main issues such as the main constraint associated with existing standards and the gap between (i) the level of approximation used for modelling the current and voltage waveforms and (ii) the stringent requirements in capabilities and functionalities of the newly deployed synchronized measurement units associated with the potential reporting rates would be presented. The talk aims to inform on emerging methods and tools to address these issues. Participants will learn about:
The measurement paradigm in power systems;
PQ, SCADA and PMUs and Power system state estimation; WAMCS
Time-stamped versus synchronized measurements
Measurement channel quality and models for energy transfer
Time- aggregation algorithms in the PQ framework
Applications and challenges
Communication channel requirements; delay assessment in WAMCS
Smart metering with high reporting rate (1s)
SPEAKER'S BIOGRAPHY: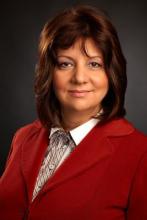 Mihaela M. Albu (M'96, SM'07) is from Craiova, Romania. She holds the Ph.D. degree from "Politehnica" University of Bucharest (UPB). Since 2002 she is a Professor of Electrical Engineering at UPB. Her research interests include wide area measurement systems; synchronized measurements and evaluation of the associated uncertainty in the state estimation algorithms; and smart energy grids focusing on optimising integration of renewables via real time control.
She is the founder of an interdisciplinary group MicroDERLab at UPB, and has written 7 Book chapters; 21 Journal Publications; more than 70 papers published in International Conference Proceedings and 50 Technical Reports (recently on smart grids topics);
Prof Albu served as Vice-Chair of the Intellicis -Working Group 2: Reliable management and control of electric power systems and is an active member in IEEE – IMS, CIGRE, VDE, and IRE (Romanian Power Engineers Society).
For PDF slides: Click Here